Some of you who are just beginning to use Windows mobile/PPC or even those not techinically advanced in Windows PCs may not know how to change registry settings to apply the tweaks that I or other sites posted. Changing the registry can be dangerous if you don't know what you're doing & can screw up your PPC. So always at least back up your registry or write them down before you change the values so that you can use them again IF something goes wrong.
PHM regedit has been around for a while, 2002 in fact. It has been used a lot and still being used today because it works fine as a simple registry editor & it is free as well. I use it on my TP & Prophet.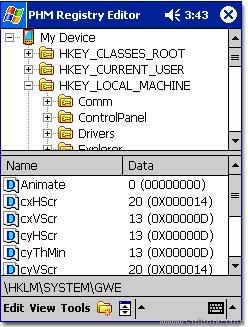 Go here for the
authors' site
.
Click on download PHM regedit.
Tick that you agree to the T&C
Under Package Selection, choose "Pocket PC 2002/2003 (ARM/PXA)" for our PPC/Windows mobile touch screen devices. Do not download the Desktop installer. It will not install via active sync since our PPC's are newer & it will not install to it.
Download the file.
Then copy the .cab file to your PPC & install from there.
Then open it, check out the
registry tweaks
& start tweaking!!
Edit 27/04/09
: Seems the author's site is down and serves me right to hotlink images as well! Images uploaded to my photobucket and I've uploaded the cab file for PHM regedit to my megaupload. Just copy the file to your device & install from there.