I thought this should go in here somewhere. If you've just bought a new Touch Pro or any Windows mobile device, and this was your 1st, chances are you wouldn't know how to install programs into it. Windows mobile is windows based, but it may not be as straight forward.

First of all, download Activesync (on Windows XP) or Windows Mobile Device Center (WMDC) (on Windows Vista). Install your version.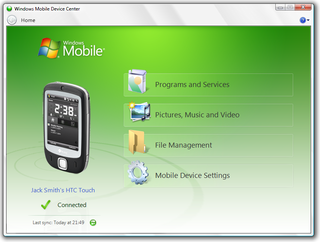 Now connect your PDA with the sync cable and it will prompt that it will sync with your device. Tick what you want synced & your data will be synced. Simple.

Now to install programs. There are two file types that programs usually come in with. The .EXE and the .CAB files.

.EXE files (executable files) are run from the computer and the application will be installed to your phone the next time you sync it. If you get an error that the .EXE file is not a valid win32 application, then copy that .EXE to your device and it should run from there.

.CAB files (cabinet files), on the other hand, require to be imported to your phone. Connect your phone to your PC via USB as mentioned above, and copy the .CAB to the phone's memory (either sd card or main memory). Run the pasted file on your phone using the built-in file explorer and follow the on-screen instructions to install that particular program.