Here is a very nifty Video Encoder made by projection over at xda-developers. This was initially written for the HTC Touch HD but now also for other new HTC phones e.g. Touch Pro, Xperia & Diamond.

"Since there have been massive problems playing back video on the newer HTC devices, I thought I'd step in...Below is a GUI, to ease the pain of getting nicely watchable videos on the Touch HD, Xperia, Diamond and Touch Pro.Any device with MSM720x chipset should work, just make sure to select the correct video resolution.I would like to give a lot of thanks to tnyynt for helping me test and find the best parameters."

It can convert any video source to .mp4 format which is playable on our devices. You just need to use Windows Media Player Mobile to play these files with hardware video acceleration. If you use Coreplayer or others, it would not be as fast since they don't utilize hardware acceleration.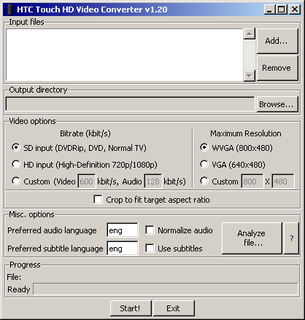 As you can see from the pic above, it has a simple GUI. Add your file by clicking "Add". Then choose your output directory. Choose the bitrate next, I just leave it on SD or you can customise it. The higher the bitrate, obviously the bigger the file. Next choose your maximum resolution - The Touch Pro is VGA (640 x 480), Touch HD WVGA or you can customise the resolution. Don't forget to tick "Crop to fit target aspect ratio". Initially I had the black bars on top & bottom but after ticking the box it was all good. You can analyze the file to see its properties. You can normalize audio but I can't be bothered. There is an option of subtitles, but on the forums, there was a bit of a problem. I don't use them, so don't know. Click on "Start" and wait for your file to be ready!
I've converted Kung Fu Panda (650Mb .avi DVD rip) to mp4 and all I can say is it plays excellent on my Touch Pro running WMP mobile! Conversion took about an hour I think - I set it to convert overnight on my laptop - HP Pavilion 2.00GHz Core 2 Duo, 2 Gb RAM running Windows Vista Home Premium. The converted file was 468mb. Somehow I can't make a screen cap of my WMP of this movie. I initially thought it was because it was full screen, so I minimized it but still can't capture it. Strange. More on CapSure, a nifty app for screen capture in the next post.

Get the file here and discuss it over at xda-developers