OMNIANO Beta is a piano for our Windows Mobile ppcs. It is still a beta, but boy it feels like this is a real competitor to the iphone app! It is made by a developer in Korea called sheon

He made this for his Omnia, hence the name, but since it runs on Windows Mobile, we all can use this excellent software!

It looks really beautiful, like real ebony keys on a grand piano. Maybe it is because it's on a VGA screen but it supports QVGA as well. It supports QVGA, VGA, WQVGA & WVGA.

Installation is a breeze, either with a cab file or PC exe. I chose to install using the cab file and onto my sdhc card.

Once open, it shows the screen in landscape mode, fullscreen. The Omnia version from my understanding can utilise the accelerometer to turn the keys either way. This feature does not work on my Touch Pro.

There is no LED indicator since the Touch Pro does not have any LEDs to begin with.

The piano sound is excellent, not too sure how the developer did it. Record from a true piano?

The keys on my Touch Pro are a few miliseconds lag (not a big problem) from the time I press them & I hope it is resolved in the following versions. The right most key will not play & maybe it's the screens fault?

You can slide your fingers across the piano to have that 'wave' effect. The only problem is that you can't play proper notes - that is not the software's fault, but HTC, since the screen does not have haptic support.

Sheon also mentions that he will have user customisation/settings in future releases. Good!

Also noticed that if you go to the most right of the screen, the last 2 buttons play 'yes sir' in the vein of warcraft and a drum track respectively, which the developer made as joke! hehe

All in all, excellent 1st beta release from Sheon! congrats!

Features of OMNIANO:

* Fast Response PIANO KEYBOARD.
* Pretty good Sound Play and have no Delay.
* Full Screen Key
* Vibrate (M490, M495 only)
* 180 Rotate by Motion Sensor(M490,M495 only)
* Led Indicator by C position or F position
* Drag and Play
* 4 Octave(C3~c6)
* configuration by user(will be support)
* QVGA, WQVGA, WVGA support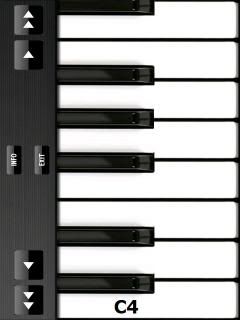 Download OMNIANO beta here at sheon's site or discuss it here at xda-developers.