I've just received my Bodyguardz in the post today. If anybody doesn't know what they are, they are transparent film that's used to cover the whole of the device. Are you guys using a screen protector? Think of this as an all over device protector, a second skin to your device.
There are a few companies that I know that makes these skins/guards or whatever you want to call them.
Bodyguardz
,
Invisible Shield
,
Best Skin ever
etc. From the reviews I read, the material are all similar and protects the device well, but some people complain about the coverage of them not being adequate or the cutting is not perfect. Prices vary as well from skin to skin. These companies not only make skins for Touch Pro but a whole lot of other devices as well, most notably iphone/ipod, Sony PSP and some laptops as well.
I bought the
Bodyguardz
because they supplied 2 skins and they had a 50% off offer. Including postage, it was US$24.95. Not too bad, considering they offer a lifetime replacement as well. The
Invisible Shield
or IS for short was the most expensive out of the lot I mentioned, but apparently is the toughest & military grade, so it may justify the price.
Best Skins Ever (BSE
) was the cheapest but they do not have a Touch Pro model, only it's US variants like the Fuze or CDMA version. The difference being that the US versions do not have a front camera & buying this would block it out.
I'm a bit annoyed that when I opened the packaging, it was a bit wet. It turns out the application fluid bottle was not screwed on properly and all the fluid has evaporated.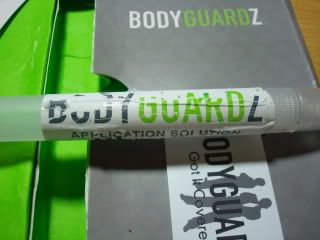 Looking at the pieces them selves, it looks like my Touch Pro would be well covered apart from the action button or center circle button and volume button.
I've contacted Bodyguardz customer support regarding my evaporated fluid. Hopefully they can replace it. From what I've read, it's only mild shampoo/baby shampoo and water but as a consumer who found the goods to be "faulty" on arrival, I'd just like to mention it to them.
That's it for part 1. I'll wait the reply from Bodyguardz and get cracking on putting this skin on in the next update.