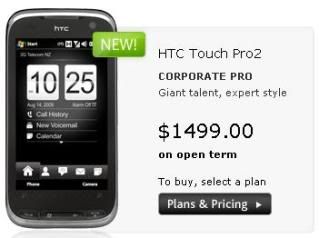 I was browsing the HTC site to see if there is any upgrades on my Touch Pro today. It was the NZ site and it only shows a few models in it - Touch Pro, Snap, Tytn II, Magic. I then clicked on Where to buy and lo & behold, the 'Find a Telecom shop' site opened in a new window.
Interesting I think, so head on over to Telecom.co.nz and saw the Touch Pro 2 for sale at $1499 with price plans extra. To me the price is expensive if you buy it parallel imported. Also, with Telecom, I think it will be locked to the network. But I guess a lot of users would prefer local support from the Telecom.
Browsing further, Telecom also has the HTC Snap at $699. My estate agent is currently using this at the moment. I did wonder where he got it from.
HTC Touch Pro 2 on Telecom NZ
HTC Snap/s523 on Telecom NZ
I'm sorry if the pictures don't load, it
because of this.