While browsing through xda-developers trying to make my wife's Eten Glofiish X610 more finger friendly, I came across this smart little program that replaces the standard menu & message box on windows mobile devices so that they are finger friendly. I'm finding this app really useful on my wife's pda.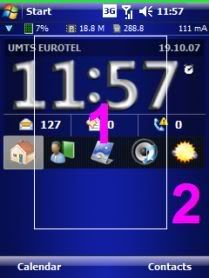 Another app to make your pda finger friendly is the excellent ftouchflo by efrost. It was freeware but since last year, he's decided to make it a commercial software suite called FTouchSL. I missed the scroll feature that was present in my HTC devices and just remembered this tool.
So if you want to make your device more finger friendly, try these 2 tools. It'll be worth it!