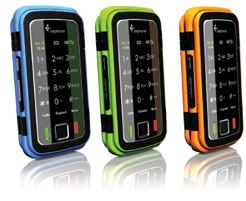 I was browsing clove.co.uk (the shop where I bought my Touch Pro) and in the "Coming Soon" section saw this tri-flip phone - the iCEPhone and it grabbed my eye. Curiously, I clicked on the link.




This is one hell of a pda-phone. It was initially designed for the military for god knows what. When all folded out, the manufacturer says it is a micro-notebook complete with keypad and track/mousepad. iCE stands for "In case of Emergency". There is an iCE button, sorta like a panic button that you can push, and it opens up the Medical program that can tell you to do CPR step by step and other life saving instructions. It can record what has been done and can compile a quick history for hand over to a medical personell. It can save your Medical history in a safe file which can be accessed.



Enough about the specialised function of the iCEPhone. Now the tech specs. It runs Windows Mobile 6 (yes 6), has Wifi, GPS, 3G and because of the flip out, it can function as a games player.



They label the iCEPhone as the Swiss army knife of the pda, even is dual SIM. Apparently when it is all folded up, it is surprisingly thin. Expected to be released soon - May 2009 and approx $1000. This gadget won't be out of place in James Bonds' arsenal! They also have a military version as well.
I don't know if this pda can save your life, but is quite handy for the lay-folk if you don't know basic life saving skills or to save your medical history. For the medical professional like me, I kinda doubt that the medical software is useful, since we're all taught the ABC's. If the medical phone joined forces with the likes of Skyscape then I think this device would be better. With prices estimating at $1000 (USD?) it's gonna be quite an expensive device but you do get a micro-notebook (or netbook?)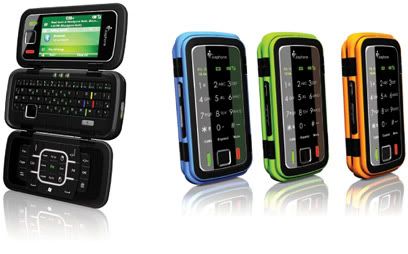 Originally designed to meet the exacting requirements of theBritish military, the iCEphone™ is a combination of two excitingnew products that can either work independently or together:a cross-platform medical software package and a phone that sets a new industry standard in convergence technology.
A STUNNING AND NOVEL SMARTPHONE
The cutting edge micro-notebook touch phone is the Swiss Army Knife of handsets, effortlessly combining four main devices:



Windows Mobile micro-notebook




Fully featured 3G touch phone




Games player with multiple triggers




Satellite Navigation via GPS

It is beautifully engineered, ruggedised, and effortlessly changes shape to adopt multiple user interfaces. A full QWERTY keyboard with large keys and a proper mouse are firsts for mobile phones. Also included are WiFi, Bluetooth, Push To Talk (PTT) and dual SIM.

INNOVATIVE MEDICAL SOFTWARE PACKAGE

iCE Aid is designed to assist anyone, anywhere in the world affected by a medical emergency. The software package reduces the time to receive appropriate treatment – the critical factor in emergency medicine. It has three main functions:




Provides step by step emergency first aid software to lead you by the hand and show you what to do and how to do it




Automatically records what has been done and compiles a handover report to give to the emergency services




Holds your medical records in a safe and secure fashion
iCE Aid is for everyone. Whether you are going about your daily life, travelling alone in the mountains, trekking through the desert, swinging through the jungle or gliding over the ocean waves and you need some medical help - here it is. It is particularly suited to remote contractors, travellers and backpackers who may need to deliver some care themselves; or access foreign healthcare in remote parts of the world with sparse medical services.

TECHNICAL SPECIFICATIONS


General
Form Factor: 3 panel micro-notebook touch phone
2G Network: GSM Quadband 850 / 900 / 1800 / 1900
3G Network: HSDPA UMTS 2100 (SimCom 5210)
Announced: 2008, November
Status: Available Q2 2009


Size
Dimensions 127 x 60.8 x 23.3 mm
Weight 210 g
Display Type Transflective (can be used in bright sunlight) TFT touchscreen, 264K colours (Optrex T-55149GD030J)
Size 240 x 400 pixels, 3 inches, viewing area 38.88 x 64.8 mm
- full QWERTY keyboard with desktop and handheld modes - multi-key typing in both modes (not a thumb board) - mouse tracker pad with left and right buttons - multi-trigger games console
Ringtones Type Truetone WMA, MP3
Customization Download
Vibration Yes


Memory Phonebook Practically unlimited entries and fields, Photocall
Call recordsPractically unlimited
Card slot microSD, Dual SIM, Additional SIM card storage

- 128 MB RAM, 256 MB ROM, - Freescale iMX31, 532 MHz processor
Data

GPRS Class 12 (4+1/3+2 slots), 32 - 48 kbps
HSCSD No
EDGE Class 12, 236.8 kbps
3G HSDPA, 7.2 Mbps
WLAN Wi-Fi 802.11b/g
Bluetooth Yes, v2.0
Infrared port No
USB Yes, v2.0


Features
OS Microsoft Windows Mobile 6.0 Professional
Messaging SMS, MMS, Email, Instant Messaging
Browser WAP 2.0/xHTML, HTML (PocketIE)
Games Yes, Multi-trigger games player
Colours Black, Amber, Green, Blue
Camera 3.1 MP, 2048x1536 pixels, autofocus, LED flash, video form factor allows forward facing for photos and and rearward facing for videocalls


Other
- Built-in GPS receiver- Video call- Pocket Office (Word, Excel, PowerPoint, PDF viewer) - Java MIDP 2.0- Voice memo - Media Player 10 - Video/audio album - Built-in handsfree
Unique Software
Medical
- accredited, emergency first aid software - medical history storage in a safe secure manner - 24/7 international helpline (call collect)


Battery

Standard battery, Li-Ion 1250 mAh
Stand-by Up to 3 days
Talk time Up to 5 hrs
http://themedicalphone.com/index.htm